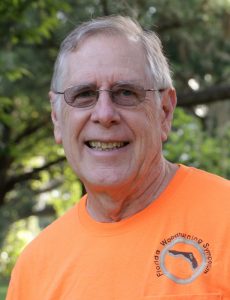 I first remember using a wood lathe in a high-school shop class back in the 60's.  I re-discovered woodturning in 2002 after joining the North Florida Chapter of the American Association of Woodturners.  I learned most of my skills working with professional woodturner, John Penrod (now retired), and attending many regional and national symposia.
I enjoy teaching woodturning.  Working with the AAW, I developed a curriculum for new woodturners that is published on the Woodturning FUNdamentals website.  I have published articles in the AAW Journal, and British Magazine, "Woodturning." Presently, I am the coordinator and woodturning instructor at Camelot's Woodworking Studio in Tallahassee.
What I love about woodturning is that it is a creative, problem solving process.  I use a variety of techniques when turning. I mostly use regional woods from the southern U.S., including cherry, camphor, magnolia, maple, palm, and sycamore.  Photos and videos of my work may be viewed on my website http://waltwager.com
Morning Workshop
Turning Polymer Clay
Polymer clay offers the woodturner a new creative medium for turning. It can be used for decorative pens and small items like tops.   Turning clay involves choosing and conditioning the clay, creating the blank to be turned, baking the clay, mounting it on the lathe, turning and finishing.   The item to be turned in this workshop will be a polymer clay top.   The participant will make and bake the blanks, turn the top and turn the spin platform.   This is a fun project and involves spindle and faceplate turning.
Skill level:
Appropriate for beginners through advanced
Tools & Supplies required:
A spindle gouge (3/8 or smaller), small skew (1/2″ or smaller), and parting tool.
Workshop Handout:
Afternoon Workshop
Turning small hollow forms
Hollow forms involve both side grain and end-grain turning. Participants will turn a small (3-4″) hollow form using basic hollowing tools.
Skill level:
Beginner through advanced – Participants should be comfortable roughing a blank to round between centers and preparing the blank for use in a scroll chuck.
Requirements:
In addition to standard workshop room equipment participants should bring — Spindle roughing gouge, spindle gouge, parting tool, hollowing tools, and a can of compressed air (very handy for blowing out chips since we won't have a compressor) this can be purchased at Wal-Mart, Harbor Freight, or Target (usually in the electronics section).
If participants do not have hollowing tools, I suggest they purchase a 3 piece Mini Carbide Tip Hollowing Set ($60) #LCHOL3C or a low-cost HSS Mini Hollowing Tool Set ($40) #LCHOL3 hollowing set from Penn State Industries. (https://www.pennstateind.com,  however, the HHS tools must be modified for safety reasons. We will modify then sharpen and use these tools in the workshop. I will supply 3x3x4.5″ cherry or maple blanks. If participants desire to bring their own wood, I recommend it be close to these dimensions. We will be hollowing through a 1 1/8″ opening.  A variety of hollowing tools will be available for those not bringing their own tools.
Workshop Handout:
Steps in turning small hollow forms
Download this page in PDF format