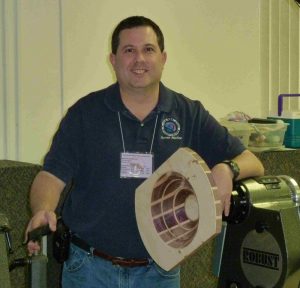 Woodturning is a hobby that allows me to incorporate unlimited creative expression with something else very dear to me: Power tools.
Our craft is unique, and my goal has always been to seek a happy medium between "art" and "function".   Teaching the techniques and methods that I have learned or developed over the years allows me to hone my skills even further. In the last ten years, I have tried to use only domestic hardwoods and as much "recycled" lumber as I could in my work. I believe that my turnings can be beautiful and functional while still supporting ecological ideals. Simplicity in design, function, and the uncomplicated methods used to create my pieces connect the work and the result.
It's been said that "Creativity is allowing yourself to make mistakes. Art is knowing which ones to keep."
All day workshop – Flat to Fabulous:
Make a Bowl from a Single Flat Board or How to Eat Popcorn off of Scrap Wood
If you are anything like me, you have a hard time throwing away almost any of your scraps or
cutoffs from recent woodworking projects, just in case you may need them in the future.   Of
course, we woodturners have the added disadvantage of feeling guilty about the stuff that normally goes into the "firewood" pile as well.
This class will require both sessions to complete the project.  You do not have to attend the
afternoon session, but you will go home with an unfinished project.   You will learn a fun and
easy way to use some of those flat cutoffs and scraps and turn them into something useful.   It's a
project that requires some basic woodworking and turning skills, but the results can be extraordinary. It's extremely efficient – there's no hollowing or coring – so very few shavings, and about 80% of the bowl is turned with a single (surprising!) tool and 100% on the lathe.
Once you learn this technique, all of those scraps in your shop can be put to good (great!) use.
This is not a class for a beginner. The techniques require a fairly high comfort level around the
lathe and experience with your tools.
Tools & Supplies required:
Bowl gouge(s), chuck with cole jaws or a longworth chuck, wood glue (titetbond or equivalent),
medium and thick CA glue, narrow mini or midi parting tool (1/16" wide).
Download this page in PDF format