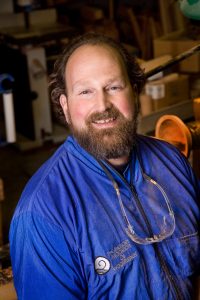 Steve Cook discovered woodturning after moving to Savannah Georgia
twenty years ago.   He became passionate about this art which led him
to become an integral member of Low Country Turners.   For the several
years, he has held the leadership role of President of this club.
Steve shares his woodturning talents with the community in hopes to inspire current and future wood turners.   He does this through hands on demonstrations at local elementary schools, turning instruction at his shop (Coastal Wood Design), teaching classes at John C. Campbell Folk School and demonstrations at Southern States Woodturning Symposium and Turning Southern Style.   In addition, he has done rotations in the youth room at the American Association of Woodturning the last several years.
Steve has a continuing relationship with Savannah College of Art and Design and Savannah Technical College.   He helps students develop their turning skills for their industrial design and furniture projects.   Steve is currently involved in a pilot program through Georgia Council for the Arts and the Department of
Corrections teaching Woodturning skills to offenders in a Georgia prison.   Steve enjoys the teaching process of working with beginners as well as experienced turners.
Steve's work includes utilizing reclaimed wood to create stunning custom furniture and smaller utilitarian wood pieces.   The fine craftsmanship of his work has been displayed at the Jepson Center for the Arts in Savannah, GA during the "Rooms with a View: Southern Style" event.   His woodturning pieces were recently highlighted in "Turned, Segmented and Embellished: The Fine Art of Woodturning in Southeast Georgia" at the Averitt Center located in Statesboro Georgia.  Steve also sells his work through local stores and galleries in Savannah.
Website: www.coastalwooddesign.com
Morning Workshop
Bangle Bracelets with a Couple of Surprises
Learn how to turn a bangle bracelet and use various decorative techniques to embellish your work to create one of a kind pieces of jewelry.   Different finishing techniques will be shared.
All skill levels welcome, no prior experience is required.
Tools & Supplies to bring:
3/8″ bowl gouge (or small bowl gouge), spindle gouge and parting tool.
Afternoon Workshop
Plates and Platters
Improve your turning skills while turning plates and platters. We will cover tool use, design, and material selection.   Learn finishing and embellishing techniques for your decorative and utilitarian piece.
All skill levels welcome, no prior experience required.
Tools & Supplies to bring:
3/8″ bowl gouge, spindle gouge, parting tool or bedan.
Download this page in PDF format