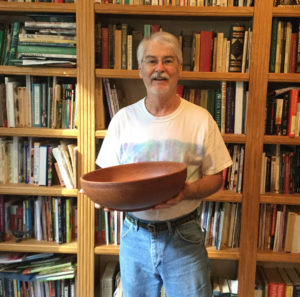 My first experiences in woodturning were in industrial arts shop classes in the 60's. After having experienced many aspects of woodworking, I developed a serious interest in woodturning 20 years ago. Since then, like many of you, I have invested a lot of money in obtaining professional instruction, tools and equipment. I have enjoyed more than 20 weeks at craft schools and attended many international and regional symposia. I feel very fortunate to have worked along-side some of the most respected turners in the field. I enjoy sharing what I have learned through: conducting classes, performing demos, leading hands-on workshops, writing and producing instructional videos.
Fully understanding the functions of my tools and being capable of properly shaping and sharpening them with repeatable results is critical to my success. I openly share the knowledge I have with other turners so they can progress in their pursuit of the wonderful world of woodturning.
I always learn something from each encounter I have with other turners. I hope we have the opportunity to exchange knowledge with each other.
Website: http://www.geigerssolutions.com/
Half-day hands-on workshops
"Tool Sharpening 101"
Lead by:
Don Geiger
"You can't effectively turn wood with tools that are dull and poorly shaped."
Rudy Lopez
Do you have tools you aren't sure are sharpened correctly and jigs you need help with? Do you need advice on your sharpening station or grinder? Do you feel like you are wasting money on tool steel, due to non-repeatable results, when re-sharpening your tools? Then this workshop is perfect for you because no matter what you turn, sharpening is a necessary basic skill that shouldn't be frustrating or consume an excessive amount of time.
You will learn many useful tips and techniques that will help you nail down your sharpening activities. Also, learn how to set-up a sharpening station that will serve as a functional base for your sharpening needs for years to come.
Each student will be provided with a work station and expert instruction to get your sharpening on track. Many examples of tools and jigs (both purchased and shop-built) will be available to examine.
This is a hands-on workshop.
Students need to bring:
Turning tools and jigs you need help with.
Face shield
Dust mask
Fee: $50/student, Maximum: 5-students/session
Register at: www.floridawoodturningsymposium.com
Friday, February 7, 2020
Choose one of two sessions:
Morning session: 8:30 AM until Noon or
Afternoon session: 1:00 PM until 4:30 PM