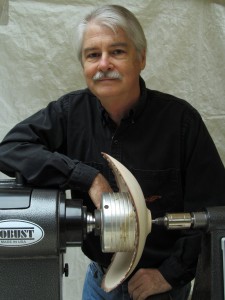 Don Geiger was born in Gainesville, Florida in 1953 and currently resides on ten acres near Newberry, Florida. He has been woodworking most of his life and started woodturning in 1999. He openly admits that woodturning is now his passion.
He has attended classes taught by professional woodturners and has been called on many times to assist some of the world's top professional woodturners with their classes at Arrowmont School of Arts and Crafts and the John C. Campbell Folk School. He performs demos and leads hands-on workshops for symposiums and clubs on a regular basis.
Website: http://www.geigerssolutions.com/
Sharpening Bowl Gouges and Turning Bowls
All Day Hands-On Workshop
Skill Levels: Non-Turners, Beginners, and Intermediate turners
Do you need expert advice and assistance learning to sharpen and use bowl gouges? If so, this class is just right for you. A side-ground bowl gouge is the go-to tool for most modern woodturners. Having the right grind on a gouge broadens the utility and eases the use of the tool.
After learning to sharpen the tools you will experience using them while turning a couple of bowls.
What to bring:
• Face shield
• Two- deep fluted bowl gouges (1/2" or 5/8" o.d.)
• One- 3/8" detail spindle gouge
• *Scroll chuck with 1" x 8 female threads with dovetail jaws and a chuck key
• *Live center with #2 MT
• *Vari-Grind jig or an Ellsworth jig
*If you don't have these items, let us know ahead of time and we will provide them.
Students are expected to help clean up around their work area at the end of the workshop.
Download this page in PDF format