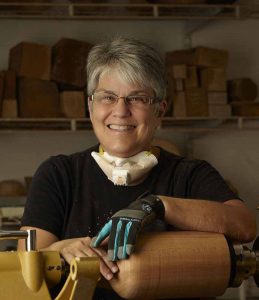 Dixie Biggs lives in Gainesville, Florida and has been a studio woodturner/artist since 1989. Having a degree in Agriculture and a love of the outdoors, much of her work incorporates a botanical theme. She is best known for her meticulously-carved "leaf-wrapped" vessel.
Dixie has demonstrated and taught her techniques at regional and national woodturning symposiums, woodturning clubs and craft schools around the U.S. and abroad.
Website: http://dixiebiggs.com/
Adding Relief Carving to Your Woodturnings
We will be using rotary power carvers for this all day hands-on session.  I will take you, step by step, through the process I use to create my "leaf wrapped" vessels. I will go over why I prefer a micro-motor for what I do, what burrs I use for each step and how and what uses I have for the burrs I modify. You don't need any previous experience with power carving, just a desire to learn the techniques.
Workshop Handouts:
Tools and Supplies needed for the Workshop.
Download this page in PDF format