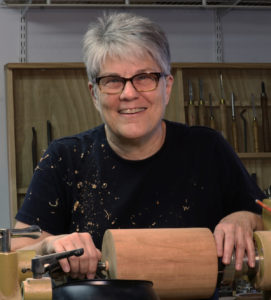 Dixie Biggs has been a full-time studio woodturner/artist since 1989. She grew up with a love of carving and a fascination for working in wood. Her interest in woodturning began in 1979 when she taught herself to use a wood lathe so she could duplicate a chess set her grandfather had made.
Having a biological background and a love of gardening, much of her work incorporates a botanical theme. She is best known for her meticulously carved "leaf wrapped" vessels. She has had an extensive show career and exhibited her work in such notable venues as the Smithsonian Craft Show, the Philadelphia Museum of Art Craft Show, and the American Craft Expo. Her work has been included in many exhibitions around the country and she has work in many public and private collections worldwide.
She continues to share her techniques and knowledge by demonstrating and teaching at various woodturning clubs, woodturning symposiums, and craft schools around the country and abroad.
Website: http://dixiebiggs.com/
Adding Relief Carving to Your Woodturnings
We will be using rotary power carvers for this all day hands-on session.  I will take you, step by step, through the process I use to create my "leaf wrapped" vessels. I will go over why I prefer a micro-motor for what I do, what burrs I use for each step and how and what uses I have for the burrs I modify. You don't need any previous experience with power carving, just a desire to learn the techniques. If you have previously taken this session with me and would like a refresher or help on a piece you're working on come join us.
Workshop Handouts:
Tools and Supplies needed for the Workshop.