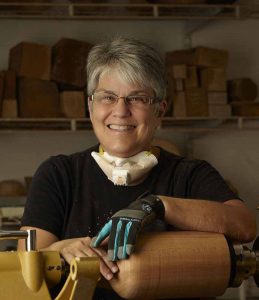 The woodturnings of Dixie Biggs combine the highest craftsmanship in both her selection of materials and in their shaping on Dixie's lathe. The intricate carvings that cover the surfaces of many of her pieces are inspired by nature and are not mere embellishments but seem an integral part of the particular piece of wood she is focused on as she works, unlocking classic, balanced forms from rough logs which she seems able to see into from the first time she touches them.
It isn't that easy, however. For Dixie, creating each piece is an adventure, as she explores deeper and deeper into the wood until she discovers and reveals to us all the deepest meaning that it contains. And it is that sense of adventure, nurtured over many years, that Dixie brings to her art and which makes each piece seem alive.
Dixie Biggs makes her home in Gainesville, Florida, and has been a full-time studio woodturner/artist since1989. Having a degree in agriculture from the University of Florida and a love of gardening, much of her work incorporates a botanical theme. She is best known for her meticulously-carved, "leaf wrapped" vessels. She has had an extensive show career and exhibited her work in such notable venues as Smithsonian Craft Show, American Craft Exposition, Philadelphia Museum of Art Craft Show and del Mano Gallery. Her work is in public and private collections worldwide. She has shared her techniques and knowledge at regional and national symposiums, including Australia, the Utah Woodturning Symposium, the American Association of Woodturners and various woodturning clubs and craft schools around the country.
Website: http://dixiebiggs.com/
Adding Relief Carving to Your Woodturnings
We will be using rotary power carvers for this all day hands-on session.  I will take you, step by step, through the process I use to create my "leaf wrapped" vessels. I will go over why I prefer a micro-motor for what I do, what burrs I use for each step and how and what uses I have for the burrs I modify. You don't need any previous experience with power carving, just a desire to learn the techniques.
Workshop Handouts:
Tools and Supplies needed for the Workshop.
Download this page in PDF format