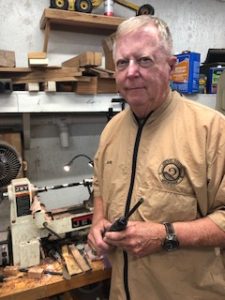 David W. Farrell has been woodturning for the last 60 years. He is a member of the Central Florida Woodturners Club in Orlando, Florida where he has held the position of Vice President and is currently on the Board of Directors. 
David has always had a passion for woodturning. He took woodworking classes in high school as well as various other vocational classes such as Metal Working, Foundry, Drafting, and Architecture, and continued his education receiving his AAS degree in gunsmithing from Trinidad State Junior College in Trinidad, Colorado in 1965. 
Soon after graduation, David opened a small gun shop in suburban Chicago where he built custom guns and repaired guns for clients. He also became an Armorer for most handguns, including Smith & Wesson and Colt, and also refined his woodworking and metalworking skills by building custom rifles and pistols. 
In 1975, David received a Bachelor's degree in the field of Industrial Education at the University of Southern Colorado in Pueblo, Colorado. He then became a High School Teacher and taught Woodworking, Drafting, Architecture, Design, Surveying, and Welding.
In 1978, David received his Masters of Education in the field of Vocational-Technical Education from Colorado State University in Fort Collins, Colorado.
After receiving his Master's degree, David continued teaching High School and started teaching college, as well, where he taught Drafting, Architecture, Surveying, Woodworking, and Welding. He then started a career in the industry as a Corporate Trainer and Human Resources Director for a large metalworking and manufacturing facility in suburban Chicago.
In 2008, David built a home workshop where he turned a variety of items including bowls, platters, and goblets which he continues today.
He has been making custom pens and teaching beginning, intermediate, and advanced pen turning at various turning clubs and functions in the state of Florida.
 Pen Turning
Shop and machine safety

Pen Kits

Blanks – Kinds and materials

Blank preparation

Drilling and squaring blanks
Turning and design
Sanding and prep
Finish – Kinds and application
Buffing and polishing
Assembly