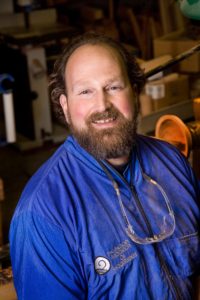 Steve Cook discovered woodturning after moving to Savannah Georgia twenty years ago. He became passionate about this art which lead him to become an integral member of Low Country Turners. For the several years, he has held the leadership role of President of this club.
Steve shares his woodturning talents with the community in hopes to inspire current and future wood turners. He does this through hands on demonstrations at local elementary schools, turning instruction at his shop (Coastal Wood Design), teaching classes at John C. Campbell Folk School and demonstrations at Southern States Woodturning Symposium and Turning Southern Style. In addition, he has done rotations in the youth room at the American Association of Woodturning the last several years. Steve has a continuing relationship with Savannah College of Art and Design and teaches at Savannah Technical College. He helps students develop their turning skills for their industrial design and furniture projects. Steve is currently involved in a pilot program through Georgia Council for the Arts and the Department of Corrections teaching Woodturning skills to offenders in a Georgia prison. Steve enjoys the teaching process of working with beginners as well as experienced turners.
Steve's work includes utilizing reclaimed wood to create stunning custom furniture and smaller utilitarian wood pieces. The fine craftsmanship of his work has been displayed at the Jepson Center for the Arts in Savannah, GA during the "Rooms with a View: Southern Style" event. His woodturning pieces were recently highlighted in "Turned, Segmented and Embellished: The Fine Art of Woodturning in Southeast Georgia" at the Averitt Center located in Statesboro Georgia. Steve also sells his work through local stores and galleries in Savannah.
Website: https://coastalwooddesign.com/
Demonstrations
Turned Bangles embellished with color and texture.
Turned wooden bangles. Learn how to properly size a bangle. We will discuss different material options for bangles. I will demonstrate a simple fun method to turn and hollow out bangles, then onto color and texture! Discover how simple color and texture can make an amazing piece of jewelry! I will also show different finishing technics for bangles as well as a couple other small projects.
Handout – Bangle
Peppermill and salt shaker.
During this demonstration I will turn and assemble a 1 O" peppermill with an adjustable grinding mechanism and turn a salt shaker with no holes in the top! I will also show and discuss various finishes for utilitarian items.
Handout – Salt Shaker
Handout – Pepper Mill