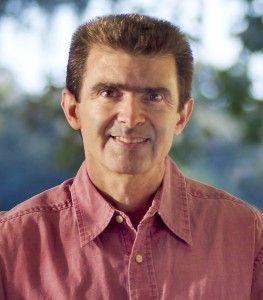 Although he is a relatively new wood artist, Rudolph Lopez has always had a love of natural objects and the environment in which they flourish. Growing up on a cattle ranch in Florida with his father and uncles who spent most of their time in the woods, he grew to love the outdoors… trees, water and all things relating to nature. To this day, Rudy's greatest pleasures come from mountain-biking, canoeing, kayaking, hiking and just being in the woods.
Rudy began working with his hands at a very young age and began to develop his creative eye through photography—his first artistic pursuit. With an education in drafting and design, he drew inspiration from the surroundings of his youth, Rudy began his relationship with wood as a craftsman of fine furniture and cabinetry. His desire to explore wood-turning began to develop when he received a natural-edge turned bowl as a Christmas gift from his best friend. Since that time, Rudy's natural sense of curiosity has led him to explore the techniques necessary to transform wood from a simple rough chunk into an piece of aesthetic beauty. He has the ability to look at an object, understand how it is made, and recreate it with very little effort. It is as if his brain is linked to his hands by some arcane memory.
When asked what kind of wood he most likes to turn, Rudy's response was, "imperfect wood, wood with knots, voids, worm holes, decay or any other flaw or defect. To me this is the beauty that God and nature has provided me with as a starting point, and then it becomes a challenge for me to continue this and create something of beauty for others to enjoy". Rudy's turned pieces have been featured in the "Rounding The Four Corners" exhibit 2008 and "Restful Places-Cremation Urns and Objects" 2009 at the AAW Gallery of Wood Art in St. Paul, Minnesota.
Life is not a journey to the grave with the intention of arriving safely in a pretty and well preserved body, but rather to skid in broadside thoroughly used up, totally worn out, and loudly proclaiming…WOW!…WHAT A RIDE!!!!!!
—author unknown
Website: http://rudolphlopez.com/
Demonstrations
Natural Edge Wing Bowl from a log or crotch section
I will be turning a thin natural edge wing bowl from a green log or crotch section. Design and layout considerations regarding limb orientation, crotch figure, keeping or eliminating features or flaws in the wood will be covered. I will explain and demonstrate the technique I use for turning thin on interrupted cuts allowing the wood to warp and move which influences the final piece and helps avoid cracking. Explanations on using and sharpening Negative Rake scrapers, sanding wet wood both on and off of the lathe along with different finishing techniques.
Handout – Wing Bowl

Square to round Bowls, Vases and Hollow Forms
I will explain and demonstrate the process I use to create a bowl or vase, which is square on top and tapers to round at the bottom. Starting with a square or rectangular blank that has been prepared on a bandsaw to taper the sides, the remaining exterior corners will be turned leaving the four tapered sides, then the interior of the bowl or vase will be turned into the square top. Techniques for sanding and/or embellishing the different surfaces of the forms will also be discussed. I will show a variety of ways blanks can be cut on the band saw which will start you thinking about how many different design possibilities there are for square to round bowls, vases and hollow forms.
Handout – Square to Round

Download this page in PDF format