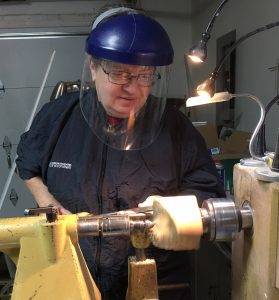 Bachelor of Fine Arts in Sculpture from the Atlanta College of Art in 1990 (Savannah College of Art and Design)
Studied to become an Art Educator at Georgia State University where she was an Honors Student
As a sculptor, she produced work for the movie "Freejack", created the Pinwheel Project at Tula Art Foundation in Buckhead, Was a featured artist on the program Artage for the City of Atlanta, and had work featured at ABC No Rio in New York.
Several of her bowls were featured in the HGTV Green Home in Serenby in 2012.
She has won awards both as an artist, sculptor, and woodturner and her works are in private and corporate collections throughout the country.  She is a frequent demonstrator at clubs and events and was a demonstrator at the 2016 AAW Symposium in Atlanta.
Currently, she is a long-standing member of The Georgia Association of Woodturners, The Apple Ridge Woodturners, and The Etowah River Woodturners.
Artist Statement
As a sculptor, I began working in wood during my college days and found the texture, versatility, and aroma almost hypnotic.  I loved working with wood but did not discover turning until a chance project for a charity propelled me into learning to create art from turned pieces of wood.  My very first project was a chess set which sold at auction for $350.00.  The second project, a table with four turned legs was the hook that grabbed me and I have been turning ever since.  I might add that the table is still in use in my kitchen and is a constant reminder of my woodturning journey.
I love creating platters and bowls with an enhanced rim and texture design.  In the past few years, I have been working with faux metal paint techniques that enhance the textural elements in my pieces.  It is often difficult for the untrained eye to detect the difference between the faux and a real metal surface.
Hollow forms are also a favorite subject in my work.  I carve and texture these pieces and experiment with surface embellishments using a variety of texturing tools.  I create many tools for texturing from broken or damaged tools in my shop.
I have served on the board of directors of several local clubs including The Apple Ridge Woodturners and the Georgia Association of Woodturners and am still a member of both.    I am currently a member of the Etowah River Woodturners which is a new club in Canton Georgia.
As a wood artist I truly love making turned art.  Unlike working in the typical office environment, I can look around at the end of the day and see that my time has been spent creating something satisfying and beautiful.  This gives me great joy and I hope that I can share that with you.
Website: http://www.peggyschmid.com/
Demonstrations
Download this page in PDF format