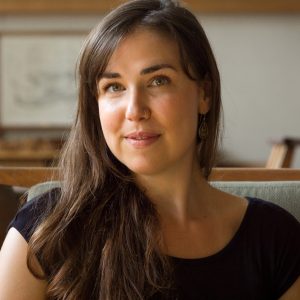 Miriam began her career designing furniture alongside Mira Nakashima for more than seven years upon graduating from the Rhode Island School of Design in 2006. In 2008 she was introduced to multi-axis turning by Mark Sfirri, which has continued to be an inspiration in her work. In 2014, she was awarded the Windgate International Turning Exchange Residency sponsored by the Center for Art in Wood, together with four wood artists from Japan, Canada, West Ghana, and the United States. The year following she lived, worked, and studied with furniture makers and environmental stewards in Australia and New Zealand. She is currently Artist in Residence at the Raymond Farm Center for Living Arts & Design in New Hope, PA.
Demonstrations
Multi-Axis Split Turn & Carve
A new approach to creating bilaterally symmetrical organic forms involving an initial four piece split-turning which is then rotated to create an identical profile, split and turned on multiple axes individually and finally carved. It will begin with a discussion of the ideation process – coaxing inspiration, evaluating criteria, sketching and selecting the appropriate material. The demonstration will cover the importance of selecting appropriate material, milling and laying-out the wood in accordance with the design. The small chickadee that will be turned involves careful planning before beginning to determine the exact measurements of the profile which fall along the intersecting tangent points on the centerline of each block after the piece has been split and rotated the first time. After the four identical pieces are split apart, they will be turned individually on separate sets of centers to create the back profile of the bird. Finally, the piece is taken off the lathe and carved.
A Subtle Curve
A fresh approach to material potential and an idiosyncratic order to a continually new process. This presentation delves deep into the cellular structure of wood and how certain species can be used to create interesting textures and forms.  She will demonstrate the preparation, shaping, carving and detailing of her feathers and the tools she has found along the way to bring these pieces to fruition.
Handouts
Download this page in PDF format