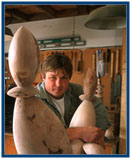 Michael Hosaluk is recognized internationally and in Canada as one of the world's most creative wood "turners". Born in 1954, in Invernay, Saskatchewan, Hosaluk is self-taught.
Hosaluk's work covers a wide range of objects and materials including functional vessels, furniture, and sculptural pieces. His work is humorous and elegant, possesses character and gesture and is full of reference to architecture, nature, and culture. Hosaluk's work has been exhibited throughout Canada, Great Britain,  Europe, China, Japan, Australia and the United States.
Hosaluk's pieces can be found in the permanent collections of Her Majesty Queen Elizabeth II, Buckingham Palace, Idemitsu Corporation, Tokyo; Boston Museum of Fine Art, Los Angeles County Museum of Art; The Detroit Institute of Arts; Yale University Art Gallery; Minneapolis Institute of Art and the Royal Ontario Museum.
Hosaluk is a member of the Royal Academy of Art and Honorary Lifetime member of the Saskatchewan Craft Council. He received the Saidye Bronfman Award for Excellence in Craft in 2006 and the Lieutenant Governor General Award for Lifetime Achievement in 2011.
He has lectured and demonstrated extensively throughout Canada, the United States, Australia, New Zealand, Great Britain, France, Norway and Israel. In Hosaluk was the founder of the biennial International Emma Lake Collaboration which started in 1994 and is the model for numerous collaborative conferences worldwide.
His connections to the global creative community gives him an eclectic palette of talent to curate unique exhibitions of art and craft
Michael Hosaluk lives and has his studio near Saskatoon, Saskatchewan. and remains active locally and globally.
Website: http://www.michaelhosaluk.com/
Demonstrations
Having Fun With Spindles – From production to Art
Turning Thin – Pushing Limits of wood and tools
Getting Hooked on Turning – The use of hook tools in woodturning – bowl turning – box turning
A collaboration with Mark Sfirri for one session
Download this page in PDF format