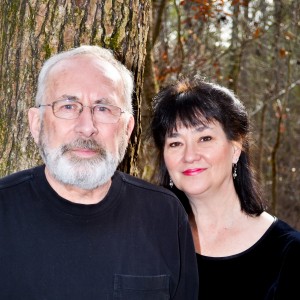 Michael's love of woodworking  surfaced at an early age. Growing up in England, Mike worked on wooden sailing yachts along the banks of the River Crouch. He moved to the US in the early 1980s and began a career as a finish carpenter.  Working with wood all of his life, Mike was always interested in woodturning and finally decided to give it a try. What began as a hobby blossomed into a passion.
Cynthia accompanied Michael to many woodturning symposiums and meetings, and her desire to embellish his turnings grew. Cynthia's "ah-ha" moment came when she discovered pyrography on the Norwegian Woodturning Cruise in 2008.  Most of the couple's focus goes into their collaborative teapots. Michael and Cynthia feel fortunate to share this love of woodworking and believe that their artistic collaborations are a natural extension of their marriage. The Gibsons live and work from their home studios in Hoschton, Georgia.
Website: http://www.michaelgibsonwoodturner.com/
Demonstrations
Pyrography 101
Cynthia will show you everything you need to know to get started with Pyrography. She will discuss the tools she uses and demonstrate her pyroengraving techniques.
Create a Beautiful Teapot
Michael will demonstrate the methods he uses to create his teapots.
The Collaborative Journey
Michael and Cynthia will walk you through their collaborative process and discuss the inspiration that drives them to create.
Download this page in PDF format