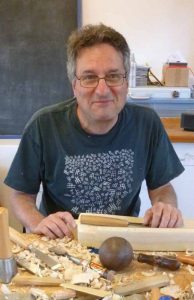 Mark Sfirri studied furniture design under Tage Frid at Rhode Island School of Design, from which he received a BFA and MFA in the 1970s.  He began incorporating turning in his furniture during that time. He designs and makes furniture and sculpture, mostly in wood, and incorporates lathe-turned forms on multiple axes in his work. He has lectured and demonstrated his techniques throughout North America and Europe, as well as in Australia and New Zealand.  He has written eighteen articles on design, technique, and history for a number of craft publications.
Sfirri has run the Fine Woodworking Program at Bucks County Community College in Newtown, Pennsylvania since 1981.  He has received two national awards:  the "Distinguished Educator Award" in 2010 from the Renwick Alliance of the Renwick Gallery of the Smithsonian Institutions and, in 2012, a "Lifetime Achievement Award" by the Collectors of Wood Art. His work is included in twenty-seven public collections including The Museum of Arts & Design (NY), Carnegie Museum of Art in Pittsburgh (PA), The Renwick Gallery (DC), The Minneapolis Institute of Art (MN), and The Los Angeles County Museum of Art (CA), among others.
Since 2006 Sfirri has been researching the life and work of woodworker Wharton Esherick.  He has authored or co-authored six articles about him for Woodwork and Journal of Modern Craft.
Demonstrations
Multi-axis turned baseball bat (design #1)
Multi-axis turned baseball bat (design #2)
Description (for #1 and #2):
From Mark Sfirri's "Rejects from the Bat Factory" series, Mark will demonstrate one of his multi-axis spindle turned bats.  He designed and started making these bats nearly 25 years ago.  While he has done many different types of turning, these are his most signature works.  He will describe how he approaches design and how he addresses specific technical issues that arise from multi axis turning, specifically the interrupted cut.  He will be doing two rotations of making bats but they will each be a different design.
Handouts
Download this page in PDF format