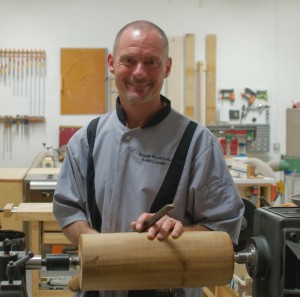 Born in Zimbabwe, Keith has called America his home since 1993.  His first career in America was as a skydiving photographer.   His work has been published in skydiving magazines and calendars around the world.
Keith has been working with wood since 2002 and has been wood turning since 2007.  He is an active member of the North East Florida Woodturning Association, managing the website and the demonstration videos.
Happily married he is grateful for all the loving support he receives from his beautiful wife.
Relatively new to the field of woodturning, I have drawn inspiration from a wealth of talented and generous turners.  I am also enjoying the journey as I explore and discover my own style.
I am drawn to hollow forms.  I also find my work is trending towards mixed media with the addition of pewter to the turned wood pieces.  More recently I have been experimenting with the combination of copper and brass with wood.
Similar to photography, woodturning appeals to me as it involves both a technical and a creative aspect.  On the creative side, it is fun to draw a picture in my mind's eye of a piece.  The technical side is the techniques and procedures I need to use in order to bring that vision into reality.
I love everything about working with wood.  The change in look and texture as it goes from rough cut to finished piece, the smell, the mystery of how a piece of wood will change as it dries and the incredible diversity of grain pattern and color.
Because of the scale of the pieces, woodturning allows me the opportunity to work with woods from all over the world.  It helps me to reconnect with the place I was born and the places I have traveled.
Websites:
http://www.syzygywoodworks.com
Demonstrations
Cast and Threaded Pewter Collar and Finial
After a brief discussion on the properties of pewter, casting and suitable mold materials, I will make a simple mold. Then I will cast pewter in the mold.  After pouring the pewter collar I will drill and thread it.  Once it is threaded I will mount it on the lathe using a threaded chuck and turn the underside to include a tenon and to reduce the bulk of the collar.  Then I will turn the top of the collar, apply a texture and highlight the texture. I will then demonstrate sizing a prepared hollow form to the collar, attaching the collar and finishing the bottom of the hollow form.  I will then thread a small ring which will be attached to a prepared finial and demonstrate how I finish turn the bottom of the finial.
Those other tools – Everything but the bowl gouge
I will demonstrate techniques and applications for the tools commonly associated with spindle turning, namely, the roughing gouge, detail gouge, spindle gouge, parting tool, bedan and skew.
Easy End Grain Hollow Form
An end grain hollow form without any hollowing.  There is a chance the hollow form may end up with a threaded pewter finial 🙂
Download this page in PDF format