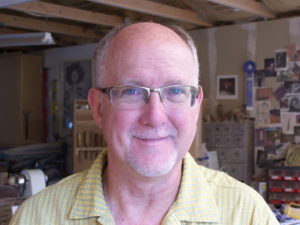 Keith Gotschall has been involved in working with wood since a very early age, even before leaving high school. Over the years he has worked as a cabinet maker, furniture designer/maker, carpenter, graphic artist, stone sculptor and wood turner. He has demonstrated at national symposiums, internationally, and at scores of clubs around the US. He is noted for clear descriptions of his traditional turning technique.
With his background in fine art, and a love of the truly utilitarian, Keith's work can be noted for it's clean lines, smooth curves and tight detail. Sometimes whimsical, often classical, Keith enjoys working in a broad oeuvre and is hard to pigeonhole.
Website: http://keithgotschall.com/
Demonstrations
Winged bowl
In this demo I will be turning a spindle, splitting it in half and re-turning one half into a bowl. As I go along I will explain and demonstrate the use of all the basic tools needed for spindle turning and will demonstrate straight cuts, beads and coves. I will then make a shape using those same shapes on a larger scale, explaining the need for proper technique and direction to cut the wood efficiently. Once split it becomes very apparent that there really is no difference in spindle turning –vs- bowl turning.
Participants will learn all the basic cuts in woodturning. Straight cuts, beads, coves, peeling cuts, parting cuts, cutting through uneven surfaces and bowl hollowing will all be demonstrated. Cutting correctly through the grain will also be underscored. Use of the 4 jaw chuck will be shown in both contraction and expansion modes.
3 leg stool
In this demo I lay out the basic stool seat and show how to drill at the appropriate angles. I then turn the seat using a 4 jaw chuck. I then show how to lay out a leg using the minimum of measuring tools and explain how I go about replication. Demonstrating beads, coves and straight cuts to make a simple pattern, I then show how easily it can be replicated quickly and accurately.
The audience will learn elements of design that will make replicating the legs of the stool very easy. Discussion of design will also show how to avoid common pitfalls, and ways around possible flaws. Techniques shown are simple, but effective in both spindle turning and bowl turning. Discussion with the audience will cover critique, furniture styles, possible options for further exploration and wood selection.
Lidded bowl
Key points in this demo will be wood selection, steps necessary for success, technique and design. The demo will cover the use of the 4 jaw chuck in contraction and expansion modes. Proper tool use and design considerations will also be covered. The bowl will be flat bottomed, and decorating the base and interior of lid will be shown, making beads etc. in a cross grain orientation. Design considerations will explain the methods of work, and options will be discussed. Spindle and bowl gouges, scrapers and measuring devices will all be covered.
Attendees will learn how to use the 4 jaw chuck to great advantage, both in contraction and expansion modes. How to cut through the grain correctly will be a focus of this demo. Correct tool use will demonstrate how easily shapes may be produced, making crisp detail that needs a minimum of sanding. Efficient gouge use, as well as the use of home-modified scrapers will be shown. They will also see how the design is informed by grain direction, and how that plays an important part in overall "feel" of the piece.
Off Center Platter
In this demo the basics of platter making will be shown, as well as the special considerations for going off center. Safety, of course, will be a primary factor in making this project. By using the 4 jaw chuck as a screw chuck and in the expansion mode, an easy way to make this platter with an uneven rim will be shown. Design considerations will be discussed with the audience, and feedback will be encouraged. This is a fun demo that should spark some new ideas of your own.
In the demo, different possibilities will be discussed, what slight changes will produce in the end result. Difficulties in turning off center will be explained, and how correct technique can minimize these aspects. Also, along the way, how to cut clean beads in a cross grain orientation will be shown, and what details work, and which don't work as well. Decorating the off center rim will be shown and other possibilities discussed.