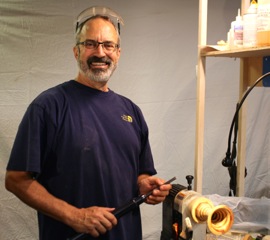 I have always enjoyed working with wood. I started out building pieces of furniture for my own use, moved on to playhouses and toys when kids came along, etc. I was first introduced to wood turning by the accomplished and well-known turner from South Florida, Dr. Robert Hazel, who also happened to be my father-in-law. I used to love visiting him for the holidays and seeing his latest creations. I began turning in earnest when he moved up close enough to his daughter that I could use his lathe! I was quickly hooked, bought my own lathe and have been an avid turner ever since.
I take inspiration for my projects from nature's endless variety of shapes, textures, patterns and colors and try to envision how they can be incorporated directly into a turning project. While I enjoy all the normal turning projects (hollow forms, bowls, platters, pen and bottle-stopper kits and the like), what I enjoy most about turning is the problem solving process of thinking up something I have never seen done before and then figuring out how a way to do it. Some ideas work out better than others, but I embrace the philosophy of Thomas Edison when he described the numerous failures he endured in his quest to invent the light bulb: "I have not failed. I've just found 10,000 ways that won't work." I especially enjoy creating unique blanks for turning by casting various materials, joining contrasting materials using a process I call spiral segmentation, and sometimes both!
Demonstrations
Casting Botanicals
This demonstration will explore some of the interesting and unique plant structures commonly found in Florida (what I characterize as "botanicals") and how I use them in turning projects. I will go through the equipment and various products available for use in both stabilizing and casting wood and various other botanicals, including nuts, seed pods and other plant structures to create interesting and unique blanks for turning. I will cover the various steps used to preserve and prepare different botanicals as well as the steps used to then stabilize and/or cast them in acrylic for turning. Finally I will cover the particular challenges encountered in turning, sanding and finishing these mixed substance blanks and how best to deal with them.
Handout – Casting Botanicals
Spiral Segmentation
This demonstration will show how to create a truly unique spiral blank for turning and the interesting designs that come out in the turning process. I will go over how to build the jig I designed and built that allows you to cut a true helix pattern out of a wood blank with such precision that several blanks of different woods can then be threaded together to create a segmented blank unlike any other. The various challenges (and solutions) that come up in turning, sanding and finishing these projects will also be covered and demonstrated.