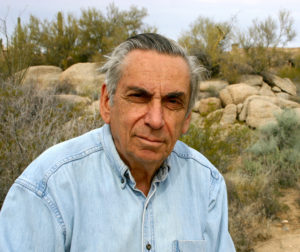 J. Paul Fennell has been a woodturner for over 45 years, and a major influence in turned wood art for over 30 years.  His work has been featured in major woodturning magazines and books, as well as in significant wood art exhibits.  His work is in several private and museum collections, including the Smithsonian; Museum of Art & Design, New York; the Museum of Fine Arts, Boston and the Philadelphia Museum of Art.  Paul is a 33-year member of the AAW, and has been a frequent demonstrator and workshop teacher. His current interest is focused on creating work meant to be hand-held, to experience not only the piece's visual appeal, but also its tactile qualities of form and embellishment. He lives in Scottsdale, Arizona, enveloped by the beauty and tempo of the Sonoran Desert.
Artist Statement
I have focused primarily on turning hollow forms for many years. The vessel form is intriguing to me in that it is a common artifact of humanity, timeless and ubiquitous culturally. When these artifacts are discovered or unearthed, we learn much from societies of the past because of their particular form and unpretentious embellishment of cultural symbols, sacred icons and images that were important to them in their everyday lives. It seems natural to me to follow this path of creating work, through form and embellishment, that relates similarly but individually to my own experiences, relationships, beliefs and things that are personally significant.
My current work appropriates ideas and concepts through patterns derived from nature, architecture and the interplay of energy and movement, an important relationship that relates to the dynamics between nature and the environment.
Website: http://jpaulfennell.com/
Demonstrations
CREATING HOLLOW FORMS: TOOLS & TECHNIQUES
This rotation will show how to turn elegant hollow forms, with an emphasis on developing a sense of how subtle changes in a vessel's line, shape and proportion can dramatically change its appearance. Exploring the hollowing process (1) using a fiber optic light system to gauge wall thickness, (2) turning in reverse to minimize body fatigue and stress, and (3) looking at simple solutions for finishing the bottom of the piece.
Embellishing Hollow Forms
After the Form.
We will create design elements that can make your work expressive beyond just the shape of the vessel. How these design elements can lead to bodies of work with a recurring theme, based upon your interests. Design elements include patterns—man-made and natural, architecture, and abstractions based on past and present observations.
Creating an indexing wheel with any number of divisions.
Indexing a grid pattern on a 3-dimensional surface as a starting point.
Creating spirals, basketweaves, diamonds and other geometric patterns from a grid.
Incorporating patterns from nature
Creative indexing with curved platforms
Pattern transfers with friskets.
HOME-MADE TOOLS AND HOW TO USE THEM
This rotation will show how to make and use the following:
A special handle for hollowing tools
An inexpensive hook tool from an Allen Wrench
Special Calipers for measuring wall thickness, especially in difficult areas
Sizing the tool to fit the vessel:
Boring bars for hollowing
Innovative texturing methods, using a Dremel Engraver and special home-made fine-line scrapers
Drilling pilot holes for hollow forms using a modified air-driven gun drill
EMBELLISHING TECHNIQUES—A TOOLBOX OF IDEAS
Developing skills in piercing, carving & texturing. A description & use of tools needed, including types of burs
Creating V-shaped fissure patterns
Creating patterns in relief using depth drills
Creating a specific wall thickness using depth drills and fiber optics.
Developing a personal vocabulary.