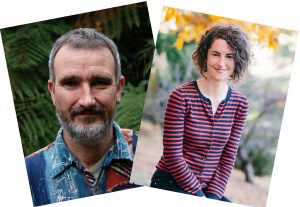 Graeme Priddle has 27 years experience in the woodworking field, best known for his sculptural turnings/carvings reflecting his life and environments in Northland, New Zealand. He has won numerous awards for his work, which has been exhibited widely in New Zealand, UK, Japan, Taiwan, France, Germany, U.S.A and Canada.
He is very active in the woodturning world and commits his time and talent to many creative endeavors.  He has served on the committee of the New Zealand National Association of Woodturners for five years as well as being instrumental in establishing the New Zealand 'CollaboratioNZ' Conferences in 1998.
Graeme has demonstrated and taught for numerous woodworking and woodturning groups and at many woodworking events throughout the world.
Graeme now resides in Asheville NC where he works and teaches with his partner and fellow wood sculptor Melissa Engler.
Website: www.graemepriddle.com
Melissa Engler is a woodworker/sculptor based in Asheville, NC.  She holds a Bachelor of Arts in sculpture from the University of North Carolina at Asheville and is a graduate of the Haywood Community College Professional Crafts Program in furniture. Melissa's work has been featured in Carolina Home + Garden, WNC Magazine, Woodwork Magazine and American Craft and is held in private collections across the US. She teaches nationally and internationally with her partner and fellow wood-sculptor Graeme Priddle.
Graeme and Melissa currently work out of their studio at Grovewood Village in Asheville and are locally represented by Grovewood Gallery (NC), Penland Gallery (NC) and The Gallery at Flat Rock (NC)
Website: www.melissaengler.com
For more information and images of our individual and collaborative work please visit our websites.
Demonstrations
Surface, surface – part 1
Presents a myriad of embellishment possibilities with rotary carvers and other carving tools.
Covers design and influences, personalizing your work.
Tool selection, sharpening, and safety. Wood selection. Rotary/hand carving and texturing techniques. Colouring and finishing.
Surface, surface – part 1
Presents a myriad of surface treatments and embellishment possibilities with wood burners.
Covers design and influences, personalizing your work.
Equipment selection, use, and safety. Wood selection. Designing and making your own burner tips/brands. Woodburning techniques/surface branding. Colouring and finishing.
Ammonite Bowl
This demonstration will cover design and influences, how to personalize your turnings. Wood selection, preparation, and drying. Basic bowl turning techniques, tool selection, sharpening and safety.
Low relief carving and surface embellishment with rotary carving tools and wood burners. Acrylic and milk paint application.
Download this page in PDF format