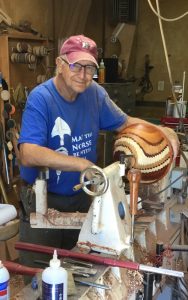 Franck Johannesen is a Norwegian-born woodturner who was introduced to woodworking by his grandfather, who built rowboats. His careers have included engineer, optician, tree farmer, and now full-time turner.
He enjoys working with trees such as Norfolk Island pine, rosewood, camphor, and palm, and he produces work for art shows and galleries.
Franck is the founder of the Sarasota Woodturners chapter of AAW. Being a frequent demonstrator at chapters led to his developing teaching techniques to accelerate skill levels of beginning to advanced turners.
Demonstrations
Hollow Form
Demonstrate unique properties of Norfolk Island Pine to train blank orientation.
Add Collar and Base to Hollow Form
Embellish hollow form to create lidded urn.
Finishing Techniques
Demonstrate CA finishes for prepared items from previous demonstrations.
Download this page in PDF format