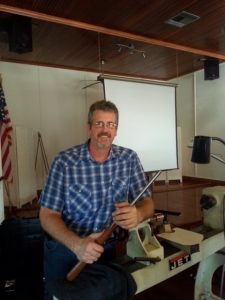 Don has been a wood turner since 2005 and says it has become his passion. He has served as Secretary and Vice President at his local woodturning club and sat on the board of the Florida Woodturning Symposium from 2010-2016. Don is a well-rounded turner who enjoys traveling to other clubs promoting and demonstrating the art and craft of wood turning.
Demonstrations
Square to Flare Wing Bowl
This is a challenging project.  Take a flat and square piece of wood mounted on the lathe.  You have to cut to the ghost line to see the shape and form of the wings and bowl.  Discuss the importance of safety, tools, and sharpening.
Handout – Square to Flare Wing Bowl
Dried Flower Vase
A simple project and easy to turn.  I will discuss and demonstrate safety, drilling, sanding, and finishing.
Handout – Dried Flower Vase
Download this page in PDF format