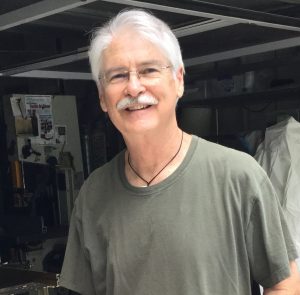 My first experiences in woodturning were in industrial arts shop classes in the 60's. After having experienced many aspects of woodworking, I developed a serious interest in woodturning 20 years ago. Since then, like many of you, I have invested a lot of money in woodturning tools, equipment and education. I have enjoyed more than 20 weeks at craft schools and attended many international and regional symposia. I feel very fortunate to have worked along-side some of the most respected turners in the field.  I enjoy sharing what I have learned by performing demos, leading hands-on workshops and writing.
I strive to produce pieces with good form, aesthetics, and balanced features. Being capable of properly shaping and sharpening my tools with repeatable results is critical to my success.
Website: http://www.geigerssolutions.com/
Demonstrations:
Sharpening Skills for Woodturners
You can't effectively turn wood until you nail down the sharpening of your tools. As woodturners, we are faced with the sometimes daunting task of establishing a sharpening station and learning to sharpen a myriad of tools. In this demo, I will provide a plethora of useful information on grinders, wheels, commercial and shop-built jigs and sharpening accessories. I will also demonstrate the sharpening of several types of tools.
I encourage attendees to ask questions relative to the subject matter during the demo.
A Natural Edge Bowl with Centered Grain and Balanced Wings
A natural edge bowl with centered grain and balanced wings is aesthetically pleasing and is less likely to warp appreciably or crack. This demo will instruct you on how to select and cut an ideal blank from a log and to layout and prepare the blank for successful results. Details of how to mount the blank and adjust it between centers for the desired results will be emphasized. A natural-edge bowl will be turned, from start to finish, using two styles of side-ground bowl gouges. You will also learn how to use a specially-ground, spindle gouge to produce a small, concave foot that serves to elevate the vessel.
I will also demonstrate how to broaden your design opportunities by taking control of the diameter of the foot you turn on any vessel.
Turning Calabash-Style Bowls with Side-Ground Gouges
Considered a beautiful, classic shape, Calabash bowls present special challenges to turners when hollowing. How to maintain bevel contact in complex forms such as this will be demonstrated. Up to four gouges with different grinds will be used to complete the hollowing process. Topics of discussion: Gouge selection, safely entering the edge, detecting bevel contact, avoiding catches, tool flute and handle positioning.
This demo will increase your knowledge of using gouges for any application.
Download this page in PDF format