Welcome to the 2016 Florida Woodturning Symposium.
February 5th – 7th, 2016 
Lake Yale Baptist Conference Center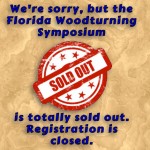 We're totally filled up for the Symposium, so we had to shut down registration. For those of you that were too late we're sorry, but we'll be back next year with another great Symposium.
The Florida Woodturning Symposium Committee has been working hard getting ready for 2016. The Symposium will be back in it's regular early February time slot.
We look forward to present this great lineup of demonstrators this year:
National Demonstrators
Regional Demonstrators
Workshop Leaders
Due to popular demand we are planning  to repeat the Shopping Spree on Friday night. If you attend the Friday evening program, you will get a door prize ticket as you enter McGuire auditorium. At the end of the evening we will draw 8 tickets and the winners will receive a $250 Shopping Spree with the vendors at the Symposium.
The  Viable Lumber Best in Show prize for Instant Gallery entries was also very popular, so Pete Richardson has agreed to sponsor the award again.
We will also be adding a Women in Turning meeting to the schedule as well as our President's Meeting. Both will take place on Friday night.
The Florida Woodturning Symposium is the largest woodturning event in Florida and is held each year at the Lake Yale Baptist Conference Center. A self contained, wooded campus where you are immersed in nothing but woodturning for 2 1/2 days. This is one of the best ways to take the next step in your woodturning.
The Florida Woodturning Symposium began in December 2001 through the efforts of three Florida Chapters of the American Association of Woodturners.  Seven AAW Chapters now put on the symposium and attendance has grown each year thanks to the high quality of our demonstrators and our Hands-on-Workshops.
A large trade show offers the woodturning "goodies" you've been looking for, both new woodturning tools and a great selection of wood for the woodturner. In addition the FWS features a great auction and raffle and the chance to win an Education Grant to one of the great national Craft Schools or a one-on-one workshop with a talented Florida woodturning teacher.
The FWS's mission is to promote the art of woodturning through the annual symposium and other events.